Je vous vois arriver, avec vos bêtises. Vous allez rigoler, dire que j'ai viré ma cuti, "depuis quand il écoute du hip-hop, l'espèce d'électro-métalleux, là ?". Vous allez rire : depuis des années. Je dois cependant avouer que ma culture en la matière est plus limitée que dans les deux styles évoqués précédemment, ce qui fait que les références et les comparaisons laudatives seront ici plus limitées que d'habitude. Mais tant que c'est original et que ça pulse, je ne peux pas m'empêcher d'en parler... Alors voici.
Dope D.O.D.
est un groupe hollandais de... disons
hip-hop
dans un premier temps... apparemment formé en 2007, et nous ayant gratifié de l'album autoproduit "
Fountain of Death
" en 2008. Depuis, et particulièrement au début de l'année 2011, le trio a sévèrement fait parler de lui.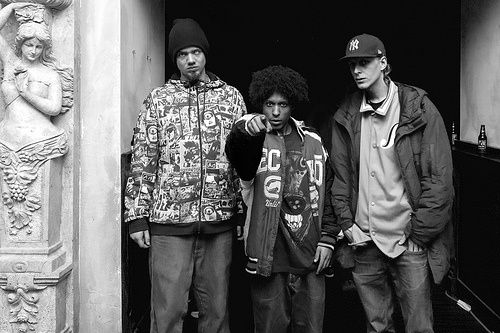 "Bringing the excitement back to dubstep hip-hop."
La quasi-exclusivité des titres de "Fountain of Death" ("No Chance", "I'm Not Gonna Hurt You", "The Game", "Everybody is Insane"...), ainsi que des plus récents comme "Fatality" ou "Cosmic Comet", sont proches d'un esprit hip-hop à l'ancienne, ça sent la réminiscence Cypress Hill à plein nez, avec des incursions plus sombres (quelques sonorités presque industrielles par-ci, quelques mélodies discrètes et glacées par-là), c'est bien fait, c'est clean, ça donne envie de bouger et d'apprendre les lyrics par coeur. Les voix particulières des trois chanteurs sont de plus très agréables, et chacune se distingue clairement des autres : le flow de Jay Reaper, aux intonations appuyées qui fait "phh-phh" dans le mike ; un autre, celui de Skits Vicious, au ton rauque et menaçant (et qui en joue sans nul doute) ; et un dernier plus fluide sur un ton de voix qui rappelle Eminem, celui de Dopey Rotten.
"Everybody is Insane". C'est eux qui le disent ?!
Mais le grand coup vient de chansons comme "Redrum" sur "Fountain of Death", qui ouvre la tendance à venir chez Dope D.O.D, puis la fabuleuse "What Happened", hip-hop franc du collier balancé sur une rythmique dubstep implacable. Le clip de cette chanson, qui a sévèrement buzzé, rajoute au charme du groupe : une réalisation impeccable, visuellement parfait, et présentant les trois rappeurs en chair et en os, dans l'ordre où ils sont cités plus haut, chacun ayant un style rien qu'à lui, marqué par une culture du hip-hop à l'ancienne mais très loin de la caricature, quelque part entre la folie et la sympathie discrète.
The next big thing.
"Psychosis", en collaboration avec Sean Price (membre d'Heltah Skeltah qui a marqué le hip-hop de la fin des années 90), est également ce qu'on peut appeler une tuerie. Avec sa rythmique hip-hop enrichie de sonorités dubstep et drum'n'bass, ses sonorités horrifiques et ses flow froids et crissants, "Psychosis" est un hymne sombre et racé qui va bien au-delà de la "simple" révérence aux Anciens : c'est original, calculé au millimètre, obsédant, entêtant, sans chance de rémission.
"C'est cru !"
L'album "Branded", dont les deux chansons précédentes ne sont au final qu'une sorte de teaser, sortira normalement en septembre 2011. A l'heure où j'écris cette chronique, ça fait encore cinq longs mois à attendre. (*soupir d'impatience*)